Tecno giant is popping in the market with latest smartphones for a different taste to Kenyans.  They are budget mobile phones coming in a wide range to fit all Kenyans. The design is stylish with an attractive appearance. If you come across Tecno gadgets, you will realize they are improvised with new technology to suit in this generation. Performance is quick and responsive without creating hiccups and stutters. On the side of the camera, Tecno comes with real megapixels with no software interpolation. They are the best smartphones you can consider to purchase. The following is a review of some of the Tecno latest phones.
Tecno Phantom 5
Tecno Phantom 5 is one of the rocking smartphones with an attractive appearance. It is a slim and light phone, which is easy to handle in your hands. Phantom 5 comes with 5.5-inch FULL HD display with a high resolution of 1080 x 1920 pixels. The screen is large and comfortable to watch videos and play games. This phone features IPS LCD capacitive screen, which is a multi-touch with more than 16 million colors. Phantom 5 operates on Android 5.1 Lollipop the latest version in the market. The performance of this phone is excellent when launching and exiting apps. The phone has a RAM of 3G making it run smoothly. Cameras are perfect and shoot high-quality images resembling the original objects. The rear camera is accompanied by cool features like panorama, face detection, smile detection, auto focus and many others. Tecno Phantom 5 has a large battery capacity of 3000mAh that can standby for even 64 hours.
Tecno Camon C9
Tecno Camon C9 is a hot model with stunning features. This smartphone has a large screen of 5.5 inches, a comfortable one to the users who like to playing games and streaming online now and then. It is a fast phone running on 6.0 Marshmallow. Which I think is the best OS you can wish to have in your smartphone. Camon C9 performance is averagely operating on 1.3 GHz Octa-core processor. The phone is nice and you can store all of your content and even remain with extra space. On the side of the camera, Tecno Camon C9 performs better than many smartphones in the market. It shoots high-quality images, which are clear and accurate without blur-visions. When recording videos the results are excellent, and you will not end up with shaky clips.  On the other side of design, Canon C9 is the type of phone that you will keep admiring a minute after the other. The appearance is pleasant and attractive coming with a lot of creativity. Inside this phone, there is a warrior battery of 3000mAh that can last for a long time without charging every time.
Tecno S7
With this Tecno smartphone, you will have lovely moments when watching movies.  Tecno S7 has a powerful 5.0-inch Ultra HD TV screen, which is different from other devices. If you have this phone no need to add a flat screen in your house. Camon C9 is running on Google Android system 4.2.2 Jellybean. It is a responsive phone and runs smoothly without creating hiccups when launching and exiting apps. Camon C9 comes with 1.0 GHz dual core CPU and a RAM of 512 MB. The fascinating part of this phone is the battery capacity. Camon C9 has a monster 4000mAh battery capacity favoring all users who cannot let a minute go without looking at their phones. The camera is perfect taking nice and beautiful pictures to color your world.  The rear camera comes with 5MP with autofocus features while front camera has 1.3MP for attractive selfies. When it comes to storage, the phone has enough internal storage of 16 and MicroSD slot that you can fix memory card for extra space.
Tecno F5
Tecno F5 has a 4-inch screen with a resolution of 233ppi, which is not bad for this budget smartphone. The screen is modern with IPS capacitive support so you can watch true and consisted images without exaggerations. Tecno F5 runs on Android 4.2.2 an old version on the market so does not expect any software update with this phone. On the side of the camera, Tecno F5 has 5MP at the rear camera and 2MP at the front. Rear camera shoots nice and decent photos that are clear for a different experience. With the front camera expect lovely selfies and high-quality video recording. When you compare the price and features of this phone, you will realize a nice device to introduce all Kenyans to the smart world. The performance is moderately operating on 1.3 GHz dual core processor. The RAM of 1 GB is helpful and makes this phone run smoothly when launching and exiting apps. 1500mAh is battery capacity available in this phone, which is enough when you compare with hardware.
Tecno F6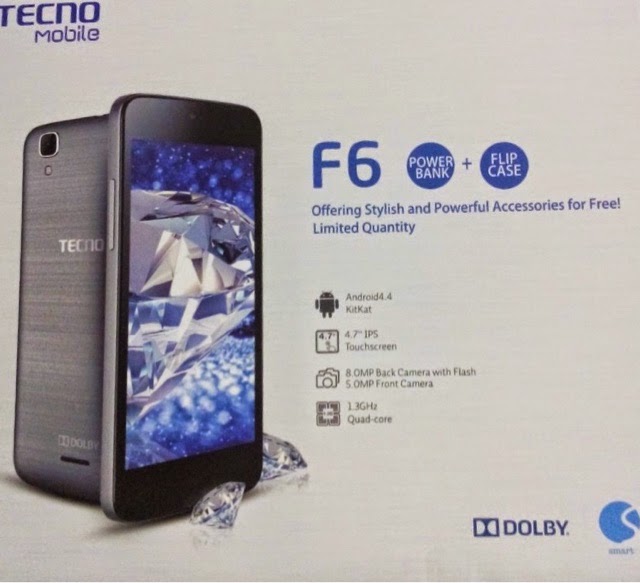 Tecno F6 operates on Android 4.2.2. The phone has MediaTek Quad Core Processor clocking at 1.3Hz and 1 GB RAM. Meaning the performance is moderate and runs smoothly even when multi-tasking. The display is comfortable to watch your videos and movies, coming with a high resolution of 720 x 1280 pixels. The cameras of this phone are disappointing to the and not well at all. The rear camera has 8MP on paper, it shoots images with blurred visions and does not expect quality pictures with a smartphone. Although the rear camera has modern features like autofocus and LED Flash, the performance is wanting. On the front side, the camera has 5MP that I think is a total interpolation. Selfies are not perfect, and you can prove by zooming the images. When it comes to battery capacity, the phone can stand for a while. It is accompanied by a 2000mAh battery that is enough when you compare with the specs. Tecno F6 design is impressive giving out a premium outlook. It is a light phone and manageable in your hands.
Tecno P5
Tecno P5 is a stylish and lightweight phone, measuring 124.3 x 65.5 x 10.5 mm. It is a lovely phone with capacitive multi-touch screen supporting 256,000 colors. Tecno P5 comes with a 4.0-inch large screen, which is comfortable when playing your games. The resolution is high ranging from 480 x 800 pixels translating to approximately 233ppi per inch. Tecno P5 supports GPRS, EDGE network and it offers access to wireless networks favoring all users who cannot let a day go without streaming. It is amazing Tecno P5 is equipped with the global positioning system, which makes it easy to track your movement. The feature is excellent and helpful to track your phone in case of misfortune. To the users who are always fascinated to phones, you can have a smile on your face to have this smartphone on the market. The primary camera has 5 megapixels with face and smile detections. The camera shoots excellent and real images for a different experience. Front camera comes with 2MP taking impressive selfies. Battery capacity is 1800mAh and can go for a day without charging.
Tecno Boom J7
Tecno Boom J7 gives you a beautiful experience with its 5 inch HD screen. It is a large screen, which you do not need to strain when carrying out different activities. This phone possesses a high resolution of 720 x 1280 pixels setting a record in the market. The dimensions of this gadget are 143 x 71.9 x 8.93 mm, a pocketable size without creating bulkiness. Tecno Boom J7 is installed with a powerful 1.3GHz Quad-core processor that runs on Android 4.4.2 KitKat although I was expecting this phone to run on latest version like Lollipop. On the side of the camera, you will experience the best with Boom J7. The phone has 8MP at the back camera and 2MP on the front. This camera gives out quality images that are pleasing and attractive, in fact, you can carry this phone in your special occasions for perfects pictures. The battery is fine and can run for a day without going off.
Tecno Boom J5
Tecno Boom J5 comes with a plastic body, which is stylish giving out a premium outlook. It is a light gadget weighing 150 g and you can manage it easily without creating bulkiness. For display, this phone employs 4.5 inch IPS capacitive touchscreen with a high resolution of 213ppi density. Tecno Boom J5 comes with Android 5.1 Lollipop, which is a latest operating system in the market. The phone has adequate processing power that gives the user a smooth experience. This phone is equipped with perfect cameras shooting lovely pictures. The back camera comes with 5MP while the front has 2MP for quality selfies. These cameras are modern with features like face detection, smile detection, panorama, LED flash, HDR and autofocus for a different taste. Tecno Boom J5 has 1950mAh battery capacity that provides 8 hours talk time and can do 250 hours standby. It is a budget phone you can consider to buy for a different experience.
Tecno Y6
Tecno Y6 design is not much different from what you would expect from a budget smartphone. The phone features plastic construction and is thicker measuring around 10.6mm. It sports a large screen of 5 inches with a high resolution of 854 x 420 pixels. It is a nice resolution, which displays quality images without blurred visions. Tecno Y6 packs 5MP rear camera with LED flash, autofocus, and HDR features. There is also a 2MP front facing shooter for taking quality selfies. The phone runs on Android 4.4.2 KitKat OS, which is nice when you compare with the price. On the side of battery capacity, Tecno Y6 is equipped with 2350mAh.
Tecno Y5
Although the Tecno Y5 is made up of plastic, the phone is sturdy and fine looking more presentable. The best thing about this model come in different color, and you can get it in black or white. Y5 is light, and it weighs only 150g so you can handle it easily without bulkiness.  The phone has impressive 5inch IPS touchscreen, which has a resolution of 480 x 854 pixels for clarity purposes. When it comes to cameras of this smartphone, you will have lovely photos. The main camera at the back has 5MP while the front camera comes with 2MP. The battery has a large capacity of 2350mAh and can go for days when using lightly. Operating system of Tecno Y5 is Android 4.4.4 KitKat.
Tecno Y4
Tecno Y4 is among the latest models in Kenyan market with pleasing features. This phone comes with 1.0GHz dual core processor and a RAM of 1 GB. It is a responsive device when launching and exiting apps. Cameras are sharp taking pretty pictures to color your world. Front camera comes with 1.3MP, a nice one for video calls. The back camera has 5MP accompanied by various features like LED flash, autofocus, smile detection and face detection. Tecno Y4 is pre-loaded with Google Android 4.4.4 KitKat operating system. It has dual SIM functionality with a full support of 3G so you can access network without limitations. 1800mAh battery capacity is enough for this phone and can take 8hours talk time without going off.
Tecno Y3
The display of this Tecno phone measures 5 inches diagonal and has a high resolution of 800 x 480 pixels. Tecno Y3 features IPS LCD capacitive touchscreen that offers wide viewing angles for a different experience to all users. The camera of this smartphone are moderate so do not expect perfect results as you might think. Tecno Y3 back camera comes with the only 2MP while the front camera has 0.3MP. This device operates on Android 4.4.4 KitKat with a dual quad core processor. Tecno Y3 has an internal storage of 8 GB and SD slot for memory expansion. On the side of battery capacity, Tecno Y3 is equipped with 1800mAh. The battery performs well, and it can last for a while for both talk time and standby mode.
Verdict
The above Tecno mobile phones are among the best you can find in the current market. If you review Tecno phones and prices, you will realize they are worth to their value.